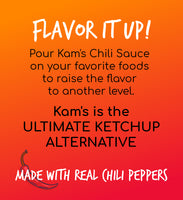 Kam's Kettle Cooked Chili Sauce. Small Batch Chili Sauce
Made in California with fresh ingredients. Based on an old family recipe.
Pour Kam's on: Eggs, Sandwiches, Burgers, Fries, Seafood, Entrees and Appetizers.
Made with ingredients that you know.
We make our chili sauce from a recipe created by Grandma Kam. I don't need to tell you that Grandma Kam had no HIGH FRUCTOSE CORN SYRUP in her pantry!